Calling all adventurers who want to make a real difference on the evening. A night of fashion, one of the ethical kind. Fikay Fashion is a rising star in ethical fashion and game changing the way we look and feel.
Bringing fashion to life; join us for a night of networking whilst actively contributing to bringing colour into the lives of Cambodian street children at the Fikay Fashion Foundation Launch Party held at one of the most renowned private members clubs in London; home to the "Made in Chelsea" cast.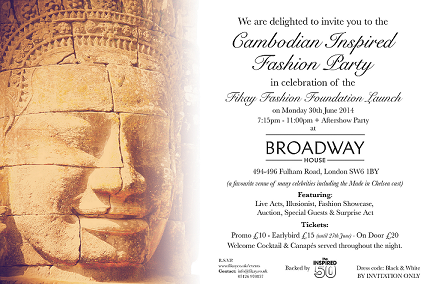 Enjoy a "Cambodian Inspired Welcome Cocktail", Live Performances, a Fashion Showcase, an Auction, Special Guest Appearences, and last but not least a Surprise Act which will be announced on the evening.
The "Fikay Fashion Foundation" (FFF) is directly linked to the up and coming ethical fashion brand called "Fikay Fashion" based in the heart of London. Fikay was launched as a revolutionary project in South East Asia just over a year ago with the aim to change the way how ethical fashion is perceived, producing products that are accessible, relevant and stylish whilst having a social impact at the same time. Fikay has already been able to help hundreds of widows and disabled, otherwise unemployable individuals become entrepreneurs and inspire their communities to do the same. For each product bought, Fikay donates educational support to these communities where the products are manufactured.